Motor Drive
SIMBA provides a user-friendly and efficient approach to simulate and model intricate motor control algorithms and control systems.
The Motor Drive library in SIMBA furnishes fundamental building blocks that save time and facilitate the design of complex power electronics-based motor control systems. This library offers access to a comprehensive range of built-in motor models, encompassing Permanent Magnet Synchronous Motors (PMSM) and Squirrel Cage Induction Machines, in addition to mechanical load models and speed/torque probes for monitoring purposes.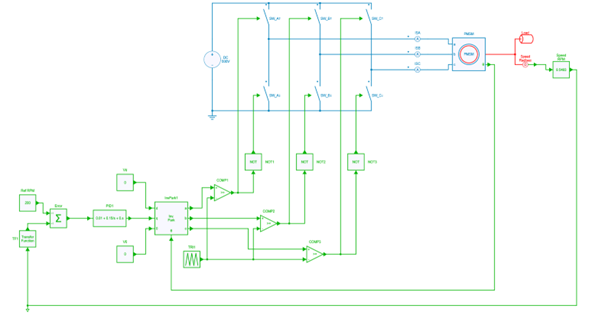 PMSM Drive – Full Bridge
By using C block, SIMBA allows the configuration of complex control algorithms, such as MPTA (Maximum-Torque-Per-Ampere) and Field Weakening Control blocks, among others. The Motor Drive system incorporates multiple control loops, such as current and speed loops. Employing the SIMBA python module enables the tuning of the control stage for the design of the motor drive system's controllers.
Efficiency Map
The SIMBA Python module "aesim.simba" offers users the capability to run Python scripts for automation and optimization purposes. With this module, an interactive efficiency map can be created for motor drive systems, which enables the user to assess the efficiency of the inverter, for instance.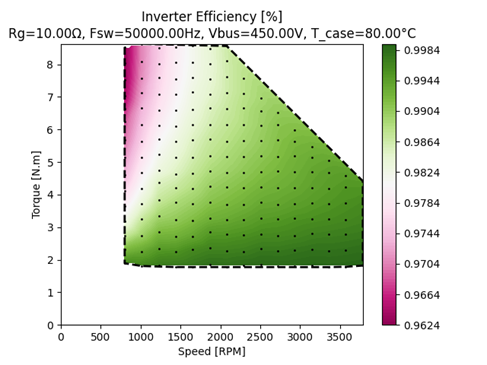 Inverter's efficiency map
Furthermore, the SIMBA Python module can run simulations in parallel, saving significant time during the simulation process. This feature allows the user to evaluate a range of operating conditions, such as switching frequency, temperature, DC bus, speed, and torque parameters, in a much shorter time.
By leveraging the SIMBA Python module, users can efficiently and effectively develop a complete and functional motor drive system, including an efficiency map, allowing them to determine the optimal operating point for maximum efficiency in a very short amount of time.