New generation of power electronics simulation software
Minimize your engineering time to design better power electronics converters
SIMBA is a new generation of simulation software for power electronics that demonstrates:
Accurate, faster and more powerful solver,
Scripting capabilities with high integration in your workflow,
Massive calculation capabilities.
Fast power converters design without compromising on accuracy
SIMBA is a versatile simulation platform that offers unparalleled convenience, lightning-fast simulation speed, and a flexible control representation, making it the go-to solution for all your power electronics and motor drive simulation requirements. Its advanced variable time step solver ensures fast simulation without sacrificing accuracy, which makes it highly efficient for simulating converter systems of any scale and performing extensive parallel calculations.

Benchmark (On-Board Battery Charger)
| | | |
| --- | --- | --- |
| | SIMBA | SimScape (ode23tb) |
| Relative Error | 0,0501 % | Reference |
| Simulation Time | 8 seconds | 58 seconds |
| Number of points | 1,988,464 | 3,759,001 |
Seamless integration in user's development workflow
The platform has been developed with seamless integration in mind to enable SIMBA to fit within client's existing processes.
The inclusion of a Python module in SIMBA further amplifies its capabilities, enabling users to leverage scripting for automation and optimization tasks. The Python module also facilitates SIMBA simulations and pre- and post-processing, effectively eliminating the need for traditional user files created using excel that accompany circuit simulation files. This integration capability enables any user to extract maximum value from SIMBA, ensuring superior performance and results.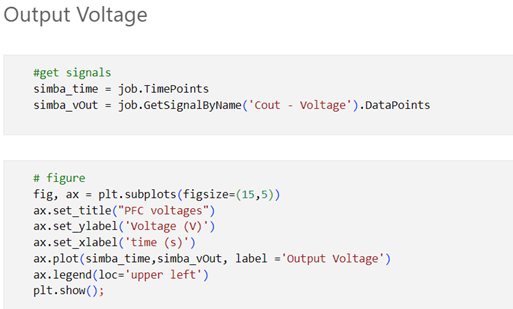 Python script for plotting output voltage

Output voltage displayed in Visual Studio code by using python API
A competitive edge to reduce your development costs and faster time-to-market
SIMBA offers companies a competitive edge by providing a robust simulation environment that enhances efficiency and productivity, leading to reduced development costs and faster time-to-market.
In addition of the lightning-fast simulation speed and the high accuracy delivered by SIMBA, the platform allows to run simulations in parallel, enabling the simulation of converter systems of any scale and performing extensive parallel calculations.