PRESS RELEASE
Le Puy-Sainte-Réparade, – October 28th, 2022

Powersys opened a new subsidiary in Germany
Le Puy-Sainte-Réparade, October 28th, 2022 – Powersys opened a new subsidiary in Germany.
This entity will help the group to better serve the German EV and Grid markets. This subsidiary will be managed by Bernd Cebulski, who has a long-term experience in automotive electrification.
Bernd Cebulski has been working in the field of electric drives ever since he graduated 1993 in EE from University of Technology in Dresden, Germany. In the last 20 years he was active in several positions at IAV GmbH Germany as Manager for Automotive Drivetrain Electrification where he gained much experience with the design and control of electric drives and power electronics. As CEO of Powersys GmbH, Bernd will evolve the German market for CAE software to serve and support industrial and automotive customers with the challenging demands of powertrain electrification.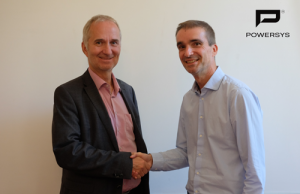 "It is a great opportunity for me to use my experiences for helping to develop more efficient and sustainable electric drives. I am joining a great team of visionary people and together we can bring our ideas to life," said Bern Cebulski.
"We are very proud to welcome Bernd Cebulski in Powersys' team. Bernd has a strong expertise and knowledge of electrification for both Machine Design and Power Electronics. His talent combined with Powersys' mission to revolutionize e-design will help our customers to accelerate their electrification solutions," said Vincent Capron, CEO.
---
About Powersys
Powersys revolutionizes e-design, accelerates electrification.
We are a global electrical engineering software and services provider, offering fully customized solutions to accelerate the design of Power Systems.
For 20 years, we have delivered our solution to more than 2500 customers in over 80 countries, enabling our clients to solve their most complex electrification challenges in EV and Grid.
Our solution includes electrical engineering expertise, simulation software and power computing.
To find out more: www.powersys-solutions.com
Contact: Frédérique Peyret – Marketing Manager – marketing@powersys.fr