The ParticleWorks is an innovator liquid flow simulation software based on the meshless MPS-method (Moving Particle Simulation, formerly Moving Particle Semi-Implicit Formulation) that can calculate splashing, free surface and incompressible flows by solving the Navier-Stokes equations in a Lagrangian framework. It's a product of Prometech company and distributed by Powersys across Europe.
Particleworks vs conventional CFD software's:
Into Particleworks, the fluid is represented or discretized by a gathering of particles and realizes a highly accurate and stable flow simulations. It provides significant time and cost savings by eliminating the mesh generation that is required for conventional CFD software.
Particleworks analyzes the motion of fluids by dividing them into sets of discrete elements or particles, which can move freely. This approach lets you simulate large deformation, coalescence and segmentation of fluid, and rapid change of flow without requiring any complicated preparation or meshing in advance.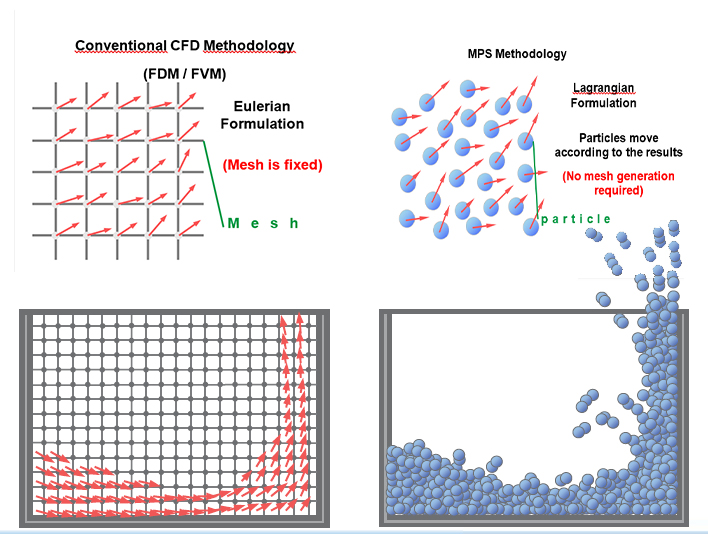 The advantages of the MPS method are Flexible modelling and simulation for complex moving boundary problems or complex multi-physics. The main advantage of meshless approach is the reduction of simulation process time.
4 Modelling steps from Pre-processing to Post-processing:
Particleworks lets you import files directly from CAD software, so you can avoid the expensive mesh generation needed for conventional CFD software.

No need to do complicated and repetitive mesh generation, you can set up calculation intuitively.
Particleworks uses the geometry directly imported from CAD software and proceed to analysis condition settings and calculation without mesh generation, which is required for the use of conventional grid method CFD software tools.
With its intuitive interface, its ultra-fast solver, and its powerful visualization tools, Particleworks provides all the tools needed for analysing liquid flow behaviour to optimize your engineering process.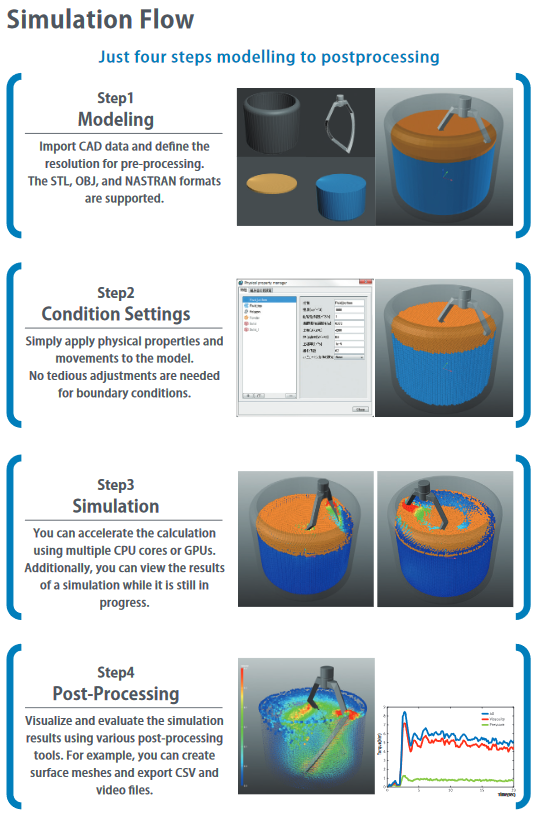 Particleworks application Areas:
Particleworks utilizes the latest research by Dr. Seiichi Koshizuka of the University of Tokyo's Graduate School of Engineering, developer of the MPS method and founder of Prometech Software. Since 2009, it has offered engineers innovative solutions to a wide range of industrial problems. Today, Particleworks continues to gain new simulation capabilities in order to remain a leading software for liquid flow simulation. This cutting-edge, particle-based simulator makes it easy to create and analyse 3D models in a variety of industrial contexts from oil sloshing, lubrication and cooling for the automotive industry to mixing and kneading for medicine, materials and foods.